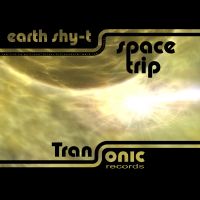 It was on Lake Balaton in Hungary that a fitting title finally occurred to Earth Shy-T for the piece that had namelessly accompanied him for years. He gazed into the starry sky, asked humanity's age-old question of what might be out there, and imagined what it would be like to fly through space and suddenly he knew. It came to him: The track should be called "Space Trip" – not only because of the driving beat that persists throughout all mutations of the song and is indeed reminiscent of the dynamic of a rocket flying through space.
Following Earth Shy-T's more dance orientated album debut with "If There's A Way", "Space Trip" is pure uplifting trance: extremely spherical, forward propelling momentum and purely instrumental. By the way, the original version of "Space Trip" was actually created six years ago. Earth Shy-T recognised the potential of his composition and began to refine it: With a great deal of time and creative energy, professionally imposed interruptions – during which the highly gifted musician and medicine student became a hospital doctor – and the intention of developing this piece to the ultimate. He succeeded here. Following numerous variations, modulations and new interpretations "Space Trip" finally had what it takes to release listeners from the state of being earthbound and send them on an imaginary journey. The expression "lift-off" is seldom more appropriate.
The piece has already produced furore on diverse music sites in Internet. The remixes of "Space Trip" have also received glowing reviews from the trance community on the net. Because one cannot pass something that lies so close to the heart as "Space Trip" lightly into other hands, Earth Shy-T approached the selection of remixers with great care. In the end, there were four names on the list. Four enquiries were followed by four acceptances and consequently by this number of remixes, which could hardly be more different from one another but which are all authentic trance. Pattraxx has made an international name for himself with straight and hard trance, which is evident in his interpretation of "Space Trip". Oliver Breidenbach, in contrast, stresses the spherical in Earth Shy-T's soundtrack for space travel. Mark Ray has created a precise remix in retro-style. And then of course there is the remix by Illitheas, a young emerging artist with classical music training, of whom we will hear more in the future. He also let "Space Trip" inspire him to the production of a melodious uplifting piece, which is currently in demand – as state-of-the-art – especially in Great Britain and the USA. Earth Shy-T himself has also created a radio cut and a further club mix: an impressive package that will enthral DJs and clubbers.